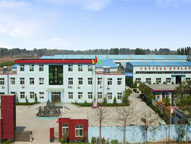 Raoyang County Hengli Fabric Factory established in 1991 has become one of the largest polyester fabrics and Felts manufacturers after more than 20 years' development. Today, our staff has reached up to over 150 and the total sales volume beyond 6 million U.S. dollars. Its 80% sales are oversea market, permeated in 30 countries and regions all over the world. Our general manager Mr. Zhao Xingwang is the vice president of Hebei ProvinceTextile Association who engaged in the polyester fabrics and felts producing industry for many years. We have advanced equipment and technology, skilled emp...
( Important notice : Due to business development and equity restructuring , Raoyang County Hengli Fabric Factory has been renamed to Hebei Defeng Polyester Fiber Co.ltd )
Defeng's R&D is the result of combine among of technical department, production department and sales department. Sales department supply an updated information about market and products through the research for market and the communication with customer, the most skilled workers will make the sample producing and put it in the market for testing, and we can also be customized or develop new production according to customer requirements. Advocate Innovation and Pioneering Spirit, Continuing develop the new products to meet the market and serving the customers, Creating best value to our customers is our final aim.
Contact Us