We try to develop new products In close communication with the PMC industry to support our customers in producing even better paper making fabrics. Long fabric lifetime and low energy consumption are the key topics for innovation.
In a paper machine, a forming fabric assists in sheet formation and conveys the sheet through the section. One of the key properties of a monofilament for forming fabric is its high consistency in diameter over the length of the yarn. This is important to avoid marking of the paper. Perlon-Monofil has a long reputation as a global leader in manufacturing high quality polyamide and polyester monofilaments with a fineness of 0,50 mm down to 0,09 mm with various textile properties.
The properties of our monofilaments are developed to enable an optimal smoothness of the fabric surface as well as lowest curling and fabric elongation in various kinds of complex weave designs. Diameter evenness, shrinkage, modulus and tensile strength are key properties of our monofilaments. Therefore we commit ourselves to a continuous in-line diameter variation control and slub detection during the production process and most thorough quality control in our in-house laboratories.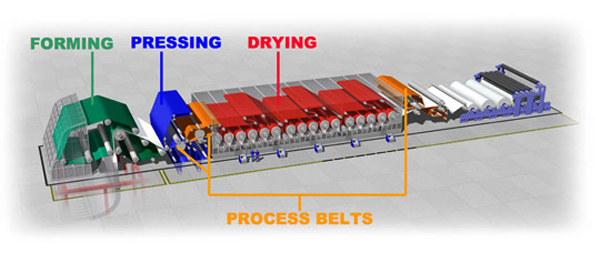 Anna
Sales Department
Hebei Defeng Polyester Fiber Co., Ltd
Add: Jingjiu Railway west, wugong town, Raoyang County
TEL: 86-311-67699480
FAX: 86-311-67699480
Website: www.china-polyestermesh.com.
E-mail:anna@china-polyestermesh.com

Tag: paper making fabrics, forming fabric